Image slide
Image slide
Image slide
Image slide
Welcome To Jill Saur Fine Art
Radiant, uplifting, and full of life, are words patrons use to describe my paintings. Discover original, inspired, and dynamic paintings that will delight your senses and provide an impressive focal point for your home or business. Having a thirty-five year track record of happy clients, you can be confident that I'll take care of your art needs. Your satisfaction is gauranteed. I also offer Free Shipping within the Continental United States (collectors outside the U.S., please contact me for acquisitions).
The following is a review from a patron who found me online and purchased a 2.5 foot x 6 foot triptych that she chose from my website (photo below). "I'm so thrilled with my new art addition. It's everything that I had hoped for. "Aspen Rhapsody In Snow" fits perfectly in my home in Colorado. Jill was wonderful to work with. The triptych came immediately after I purchased it.  It was packed perfectly for its cross country journey.  Jill is an exceptionally talented artist with an amazing ability to capture the beauty of nature." - Cathie Z. - Grand Junction, Co.  Cathie was a delight to work with!
Jill Saur
I meet with clients by appointment. Give me a call. Let's talk and see if I can help you find just the right painting for your home or office. I also love to paint commissions!
I also teach oil painting classes, acrylic painting classes, watercolor painting classes and drawing classes in my studio located in Roswell, GA.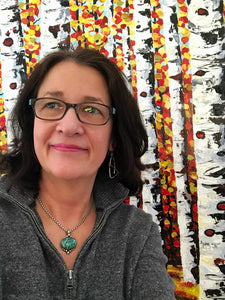 When you purchase my artwork, it's my desire that every tone, hue and brushstroke, radiates the joy with which it was painted. God is very much alive and with an irresistible force, He urges me forward enabling me to do things I otherwise thought impossible.