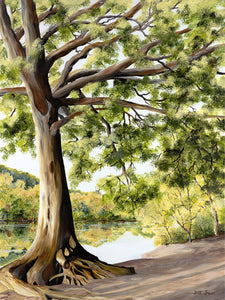 The Hastening Tree
Regular price
$ 175.00
$ 0.00
Unit price
per
Oak Tree Painting Limited Edition Giclee on Paper
16"x12" with a 2" white border • 75 in edition.
Limited Edition Print hand signed by Jill Saur on Acid Free Archival Paper.  
Free shipping within the continental USA.  
This southern oak tree on the banks of the Chattahoochee River has been close to my heart for the last twelve years.  I used to go sit under its shade by the river and draw, journal, and relax.  I named it, "The Hastening Tree" because it fought against all odds to live, be beautiful, and reach for the light.  I had a kinship with this tree.  It had a large hole in the base where you could literally see the river through it. Yet, it leafed out season after season until the day it didn't. I pulled up to the river one day and found a pile of wood near where the tree had been. The city cut it down because it was diseased.  I don't go back there any more.  It's just not the same without my tree.  This original painting hangs in my studio.  It's a daily reminder to never give up.
Click on the photo to see this painting full screen.
You'll be happy to know that I take meticulous care of my clients, but you'll never forget how my paintings make you feel!
© Jill Saur Fine Art, LLC., all rights reserved.  
---