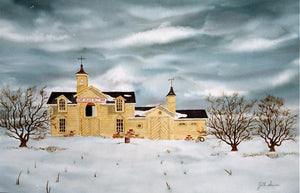 Locust Grove Fruit Farm 32"x40"
Regular price
$ 4,200.00
$ 0.00
Unit price
per
Original Locust Grove Watercolor Painting By Jill Saur
This watercolor painting of Locust Grove Fruit Farm, in Newburgh, N.Y., was a commission by the owners of the farm.  One week after I started the painting, there was a terrible fire that destroyed this historic building. As it turned out, this painting ended up being much more significant to the family than they originally thought it would be.
I'll never forget starting the sky in this painting, I had spent days getting the drawing just right and I knew that when I started painting the sky that I only had one chance to get it right.  There really aren't any do-overs on a sky like this one.  I prayed a little extra on this one and what unfolded before me was one of the most beautiful watercolor skies I've ever painted.  I'll always have fond memories of this one.
Click the main painting for a full screen view.
You'll be happy to know that I take meticulous care of my clients, but you'll never forget how my paintings make you feel!
© Jill Saur Fine Art, LLC., all rights reserved.
---