News — commission artwork in atlanta
• Jill Saur • commission a painting in atlanta • commission artwork in atlanta • commission custom oil painting
I love to paint commissions.  Many artists steer away from taking on a project that will ultimately be under the scrutiny of their clients.  However,  I love doing just that!  I've been incredibly blessed to have the nicest clients which motivates me even further to meet their expectations.   I just finished this 30"x40" commissioned piece titled, "Buckhead Vista".  Below, you can see photos of my process and my clients review. From my clients who commissioned 30"x40" "Buckhead Vista" "Jill made our first original painting experience incredibly special. We approached Jill after finding her work online wanting to commission a painting...
---
• Jill Saur • commission a painting in atlanta • commission an original abstract painting • commission artwork in atlanta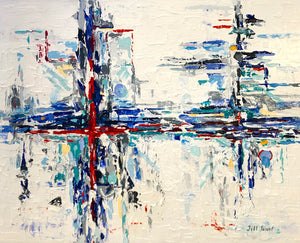 This is my new commissioned abstract 24"x 30" acrylic painting titled, "Seaside Blues."  This vibrant abstract piece was commissioned by a client in New York who was looking for a focal point piece for his new apartment.  Blue is his favorite color and I was happy to oblige! I had a lot of fun painting this one.  There's something about painting abstracts that opens up my spirit to soar to new heights, imagining new ideas and artistic concepts. Let's talk if you're interested in having me paint an abstract for your home, office, or your zoom meetings.  It's awesome to...